Project management software - review of the best solutions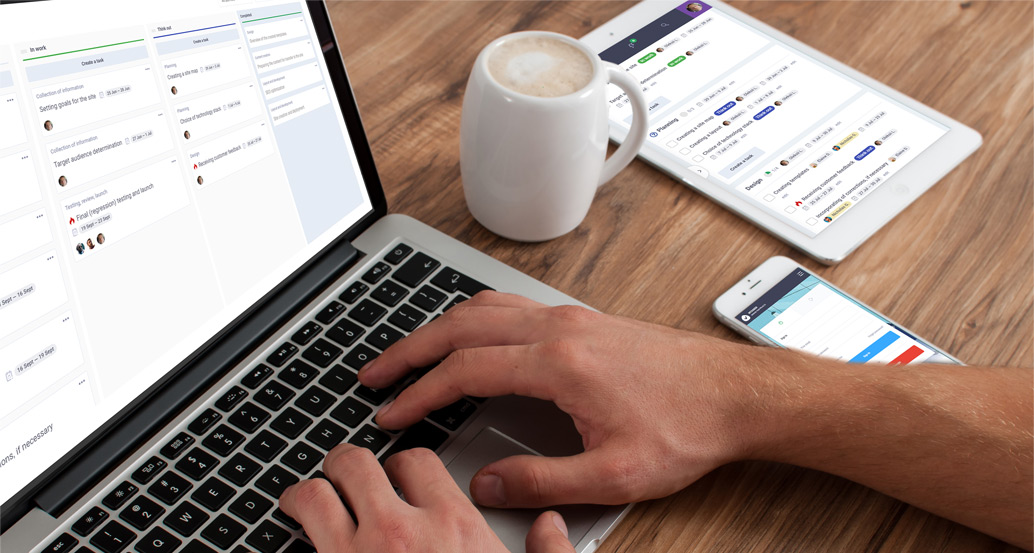 The project activity involves the use of specialized tools for control and management - normally these are field-oriented programs where all the necessary functionalities are connected in one user-friendly interface. The modern market of the software offers a wide selection of such services, and each of them has its own unique features and defining characteristics. In order to help you optimize the project management, we've prepared the reviews and comparison of popular solutions that are in great demand, and have discovered their strengths and weaknesses. Our write-up will let you not waste many hours for studying documentations of programs, getting to know their trial versions and adjusting to the interface.
Intasker.com
Let us start with our service - Intasker. Possibly the most important key feature of the service lays in its universal character. It allows you to manage either a task or a big project equally effectively. It suits both for personal use and for being integrated into the activity of a big company with a great number of employees and branches in different parts of the world.
Here are the key features of the project management software Intasker:
a possibility to invite to teamwork an unlimited number of users regardless their location;
access to all functionalities of the service at one price;
1 month of promo-access, when you can check for free on your real tasks all range of functionalities and tools without any limit;
great options for visualizing the tasks - either in a form of a text list or a visual Gantt chart;
a possibility to assign to tasks users in charge and to timely distribute the work between the performers;
a flexible configuration of access permissions - each user gets access only to the information which is needed for their work.
The tools of Intasker allow to fulfill all kinds of tasks related to project management, including planning, instant analytics, estimate of the results, creation of graphic reports. One more important particularity of this service is wide possibilities for individual settings of notifications - you define by yourself how often and about what events you'd like to get notifications. They may be sent not only to email address, but also in Telegram, which is not offered by other services of similar purpose.
Project management programs and services - Review of competitors
Asana
This app for project management is developed by the ex-members of the Facebook team and initially it was presented as an effective tool for companies of small and medium size. At the same time many big enterprises also appreciate the value of its features.
The number one advantage of Asana is a wide range of tools. Moreover, the functionalities are really diverse and may be used by regular employees, project managers and CEOs.
However this project management software has its disadvantages. First of all, it's a necessity to constantly make changes: set new status to tasks, edit order of priority of their fulfillment. The presentation of tasks in a form of one tree may also be referred to as a disadvantage. On the one hand such structure is really visual, it allows to see all scope of the upcoming work. On the other hand, it would be more convenient to reflect small tasks in a plain text ToDo-list.
One could get used to all these particularities, but there's a slight problem: there's no Russian version of Asana. That's why in order to manage projects with the help of Asana effectively you'll need to have good English skills.
Trello
This program presents an online board with tasks where they are placed in different columns depending on their status, e.g. 'To Do', 'Doing', 'Done'. While the tasks are being fulfilled, they are moved from the first column to the last. This methodology is called Kanban, initially it was used at Toyota factories and it helped control sales and delivery of component parts. Eventually Kanban principles were universalized and adjusted to be used in all kinds of work. They are also suitable for project management, which is proven by Trello service.
However regardless user-friendliness, Kanban tools have certain disadvantages:
it's impossible to estimate all scope of tasks, as well as time spent and time remaining for their completion;
it's hard to use them for managing big teams;
it's impossible to do long-term planning.
Surely, Trello also has some advantages that determine its popularity for project management. Among the advantages are the options for grouping the tasks with the help of colorful labels, for adding comments and notes to each task and attaching files and links to it. Moreover, teamwork and assigning users responsible for tasks is also possible there.
Jira
This is the tool that was originally developed for finding and correcting errors in the html/css code of programs and web apps. Jira pleases the users with wide array of functionalities, advanced possibilities for controlling the fulfillment of tasks, convenient teamwork. However, disadvantages of this service outweigh the existing advantages.
First of all, Jira does not allow to use such highly-demanded principles of flexible development - as long as the previous task is not completed, one cannot start a new one here. The main problem of this service for project management is a complex interface. There are many elements there, buttons and functions, their informativity is minimal, and almost always their role is understood simply by clicking them. That is why for those who has never used this program before, working in it will definitely seem really hard.
Wrike
This service contains a really big number of functions for teamwork and for managing projects of various size. Its main advantage is a possibility to create templates of typical tasks. If in your activity same-type tasks repeat, then this function will be useful for you.
However, working with Wrike becomes difficult because of a complex, unclear and undescriptive interface. It's hard enough to get access to current tasks - it's possible only from one main run screen. Moreover, its mobile version is badly developed, it almost doesn't sync with the PC-version.
In general, Wrike is a tool designed for managing typical projects, and it takes much time to get used to working there.
Monday
This service suits both for personal use and teamwork. It contains tools for project management, analysis of current state, communication of all members of a work team, CEOs and clients.
The work with Monday is based on the use of templates - the service offers 71 blanks for a work board of various purpose. Each of them is well thought out in regards to functionalities. At the same time, one can create their own work space for project management. Here each project is represented in a form of a separate board with tasks. You can assign performers to each board, set status and configure individual settings.
In general, the service is good enough, yet it has some disadvantages:
there's no Russian version;
the cost of using it makes from EUR 25 to 118 per month for a team of 5 users. For reference, in Intasker you can invite as many users as needed for EUR 15 per month.
Teamwork
One more Western service for managing projects and a work team. It includes a really handy task manager, a chat (so that co-performers could cooperate with each other), customer support system. Teams up to 5 people may use it for free, but the functionalities will be cut in this case. To get access to all volume of functions one will have to pay from $9 per user. No Russian version is one more disadvantage of this system.
Getflow
An easy-to-use tasks manager that is aimed at being used in a team. It allows to clearly range tasks according to a required order of completion. They are divided by status and distinctive features and are distributed into separate folders. There's a separate directory for tasks that have no performer assigned yet. Also, there are catalogues for urgent tasks as well as for tasks with a certain priority. For each task one can create individual lists and structure their fulfillment in such a way. Among disadvantages are 'cut' functionalities during a trial period, no Russian localization and weak possibilities of integration with other services.
Worksection
This service is aimed at big companies first of all. The advantage of using it is a possibility to invite to work an unlimited number of performers. At the same time, many users are not satisfied because there are no packages for small teams. In general, the functionalities of Worksection are very wide, it includes everything for managing projects of any complexity and size. The cost of its use depends upon functions and options. Personal use with creating no more than 5 projects will cost $9. The next package allows to create 20 active projects for $29 per month.
Basecamp
The project management software that is based on public cloud deployment. Exactly Basecamp became one of the first apps where all necessary functionalities for project managers were realized. Its main tools are:
it's really convenient to make ToDo-lists;
an effective system of informing about updates in the current work;
fully-featured chat rooms for a work team;
well realized tools for planning;
a possibility of cloud storage for files and documents.
Basecamp is really handy, however it costs a lot of money - the prices for its use start at $99 per month.
Hitask
A simple and equally effective tool for project management and for arranging a team work. Its advantages are a drag-n-drop interface, handy options for merging and sorting tasks, integration with Google Calendar. The employees can discuss all current questions in a fully-featured chat, add comments to tasks, set reminders, arrange meetings. This service is aimed at small teams in the first place - this reflects on its price, it starts at $5 per month. No graphic display of scope of the current tasks can be considered as a disadvantage, e.g. in Intasker one can do that with the help of Gantt charts.
Easyprojects
This is a project management software realized by Western developers and based on the AJAX technology. It allows to see the state of all current tasks in real-time mode, to re-distribute them among performers, to plan use of resources. A big benefit of this service is a possibility to visualize the work of the entire project team. In general, it pleases the users with wide powerful tools, an easy- to-use and clear interface, a possibility to use it remotely 24/7. No functionality for controlling work processes and analyzing possible risks can be referred as a disadvantage of Easyproject. Also, some users complain that its tech support does not work 24/7 as promised at the website.
Bitrix24
This is a highly-efficient software created by the Russian developers, it includes benefits of a CRM- system, powerful tools for project management, analysis and planning of activity. It supports creating Kanban boards, building Gantt charts, it's clear and easy-to-use. Bitrix24 is realized mostly on web- technologies, what determines a possibility of a remote access to all functionalities of the system. A disadvantage of Bitrix is a complexity of its integration. The system has a really complex interface and a complex structure, and to a low skilled user it may be difficult to understand it.
Megaplan
The main advantage of this system is a simplicity of its integration, settings and use:
it suits for managing projects and work of teams of small and medium size;
it provides all necessary functionalities, including setting and controlling tasks, controlling deal-making, being a file manager, a forum for communication of all team members, having tools for people management;
Megaplan interface is easy and clear, however some users say it's even too simple;
the system offers wide possibilities for visualizing tasks, including creation of Gantt charts;
it can be integrated with 1C-Fresh.
Planfix
A flexible and functional tool for project management, it's easy-to-use and intuitively clear. It supports a possibility of automatization of many tasks. Each user can adjust the interface according to their needs. This service has all necessary functions for cooperation of project team members, for synchronization with Google and 1C.
Planfix has the following disadvantages:
an unusual interface;
an unfinished mobile app;
a complexity of individual settings;
it's impossible to automatically fulfill bulk actions.
Flowlu
This is a CRM-system which is implemented for project management in business corporations, for keeping records in warehouses and meeting sales plans. It allows to arrange all business processes in a company, and may be individually adjusted to your activity. The tools of this service include all necessary functions for project creation and management, and for arranging team work. The possibilities for managing finances and other resources of the enterprise are well thought out there. If need be, one can create invoices, reports and other documents right in the service.
Flowlu has some disadvantages too:
it's difficult to learn it;
it's impossible to add co-performers to tasks;
payroll is not integrated with the finance management system;
there's no built-in telephony;
it's impossible to create documents via the mobile app.
Overall impression is as follows: the system is potentially effective and easy-to-use, but it's unfinished and thus not that suitable for project management.
Summary
We've reviewed the best and the most popular services nowadays for managing teamwork and projects, and have shown that each of them has its own key features, both positive and negative. Sure thing, that each user may select a variant that is most appropriate for their activity, and we've tried to make this choice easier and more well reasoned.
What is a task manager and why is it good? First of all, this is a handy way of accumulating in one place the information about all current tasks, of assigning people in charge of and for controlling...

More